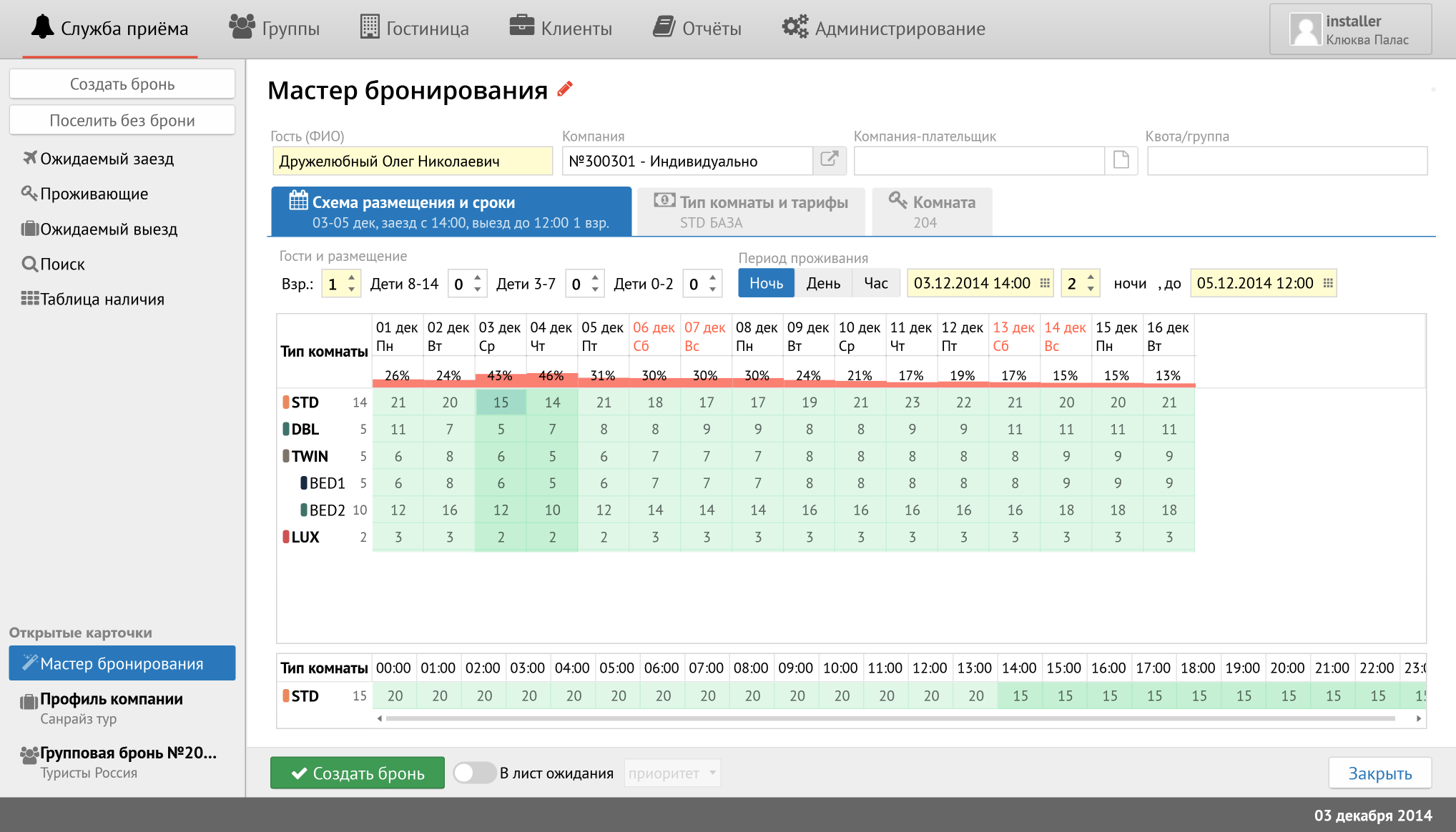 Automated management of hotels and health resorts is a vital element of the IT infrastructure of a hospitality industry project. The configuration of the IT system determines the performance and interaction of all the key functions.
Many hotel business automation systems both by global and Russian vendors easily handle the basic daily operations involved in guest check-in and accommodation. However, now this is not sufficient today to implement the ambitious plans to attract and retain customers, offer premium services, and demonstrate advantages over competitors.
An essential component of the hotel management system is support for loyalty programs. Recently, we have invested a lot of effort in this function, and as a result we are offering all hotels and health resorts an additional guest loyalty module, where you can set up a loyalty program and apply different scoring criteria (number of overnight stays, revenue, number of check-ins, etc.).
To make more effective management of corporate accounts, close interaction is needed between the software modules that the sales staff use on a daily basis. These are the CRM system and the PMS system. Since competing with professional CRM systems is not among our goals, we, on the contrary, try to integrate them into the property's automation system and we develop the appropriate interfaces. For example, Logus has a two-way interface with Bitrix supporting both booking from Bitrix and managing transactions in Bitrix by accessing at an appropriate stage information on room rates, availability, etc.
We have focused on loyalty programs as the most relevant and most important area in the hospitality industry and have developed a module that interfaces with both our traditional products (Epitome PMS) and the Logus product line. The module accumulates information about the guest from the various properties in a hotel chain, supports chain loyalty programs based on points, discounts, guest revenue, check-ins, overnight stays, stay at other hotels — all without the involvement of programmers and using solely the management console settings.
Another development in 2017 was our own booking engine. It was the outcome of a long development pathway and at first we hesitated whether we should develop it. However, the numerous customer requests were a decisive argument demonstrating that the market wanted this product. Currently, its b2b component is very popular — an account for corporations and travel agents allowing them to manage their room pool at a hotel, configure rates, quotas, etc., without having to send multiple requests to the hotel's reservation desk. Agencies can themselves make and cancel bookings and enter guest details that are automatically uploaded to the hotel's PMS. No single PMS or e-booking solution currently available on the market have all these functions despite their convenience, especially for a large property. In Epitome PMS, these functions have long been available and used by many hotels. In Logus, no such module existed before, but now we are implementing it at a number of hotels in Moscow.
Logus HMS is gaining popularity among hotel chains. We are pleased to offer the central booking system CRS, designed specifically for hotel chains. It is a new universal module that is somewhat detached from Logus and theoretically capable of interacting with either Logus or any other hotel or health resort management system. Sooner or later, the hotel faces the task of consolidating the data coming from multiple systems, and this is especially true for management companies and chains operating different types of properties and PMS.
Mobile technology has become an integral part of the hospitality business. Effective managers are increasingly implementing for their remote staff mobile technology based on mobile devices and specialized apps. The standard configuration of Logus HMS currently supports 4 such apps: tablet app for maids and utility technicians, management console allowing the hotel's executives to monitor in real time the dynamics of hotel performance indicators on their mobile devices, and hostess app for managing guest access to restaurants and other catering facilities at the hotel.
Among the novel mobile technology solutions for the hospitality industry, an app deserves a mention allowing the guest to unlock the room, gain access to a controlled access parking lot, enter the property's recreation/spa areas, order room service and value-added services. And despite the fact that the main function of the app is acting as an electronic key, it is at the same time a convenient customer communication channel as the guests get familiar with the services available at the hotel, receive special offers and many more using the smartphone as the most convenient communication technology.
The process of building an information space at the hotel requires a lot of attention. The management system (PMS) is the central link, around which all other software is built. Logus HMS can flexibly interface with virtually any related system, thereby automating a wide variety of business processes. For example, importing and exporting data to the accounting software, entering guest passport details by scanning, etc.
Automated hotel management has obvious advantages over manual or paper accounting. But there are still properties where the staff use a paper notebook and a pencil to manage room bookings. Of course, the software suite requires investments, but it is definitely worth it. Transparent business processes, minimal abuse, security, and handling huge amounts of information are just some of the advantages offered by automation.